ESWET Position on the European Commission's Public Consultation on Heat Pumps
08.09.2023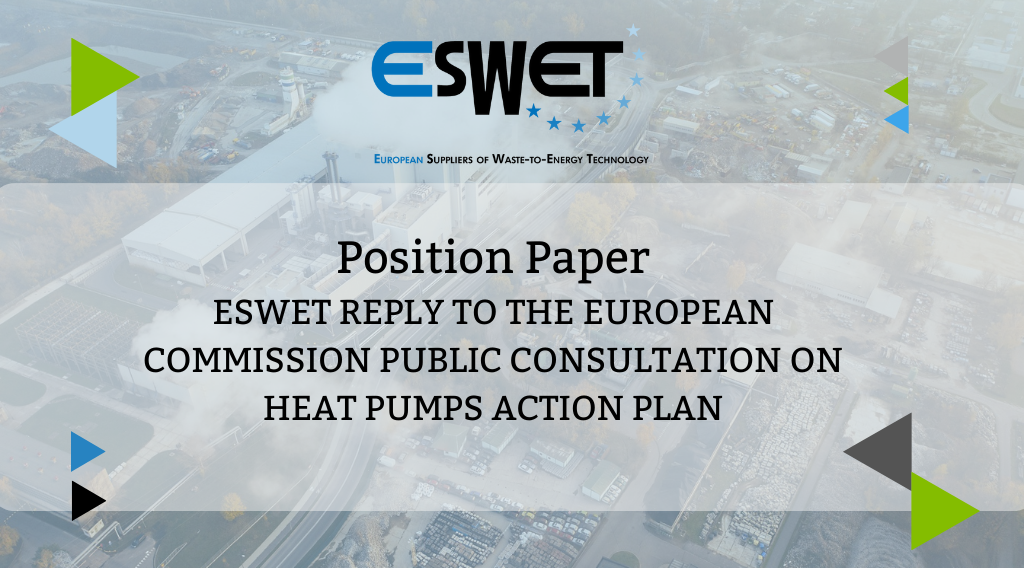 The European Commission has recently announced the future adoption of a Heat Pumps action plan to accelerate the implementation of this technology across the EU, opening a public consultation which ESWET has promptly replied to.
Such an action plan will include specific measures to be undertaken at the EU, national, regional, and local levels to address the main barriers and to strengthen the pull factors for a faster acknowledgment of heat pumps.
ESWET is particularly glad of the acknowledgment by the Commission of the urgent need to disseminate all types of heat pumps, including high-temperature heat pumps for industrial applications. These latter can, in fact, be coupled into WtE plants, to make them more energy efficient and to recover, particularly through the flue gas cleaning process, that fraction of heat whose production is unavoidable and that otherwise would be released in the atmosphere and lost.
Considering the benefits that industrial heat pumps bring when coupled into WtE plants, ESWET calls on legislators:
To adopt a regulatory framework that facilitates the deployment of industrial heat pumps in order to fully unlock the potential of this technology;
To adopt a strategy and allow easier access to European and national, as well as public and private financial opportunities.
The full position paper by ESWET on the European Commission's consultation on Heat pumps is available [here]