Waste-to-Energy & the City: generating value for Communities
19.04.2023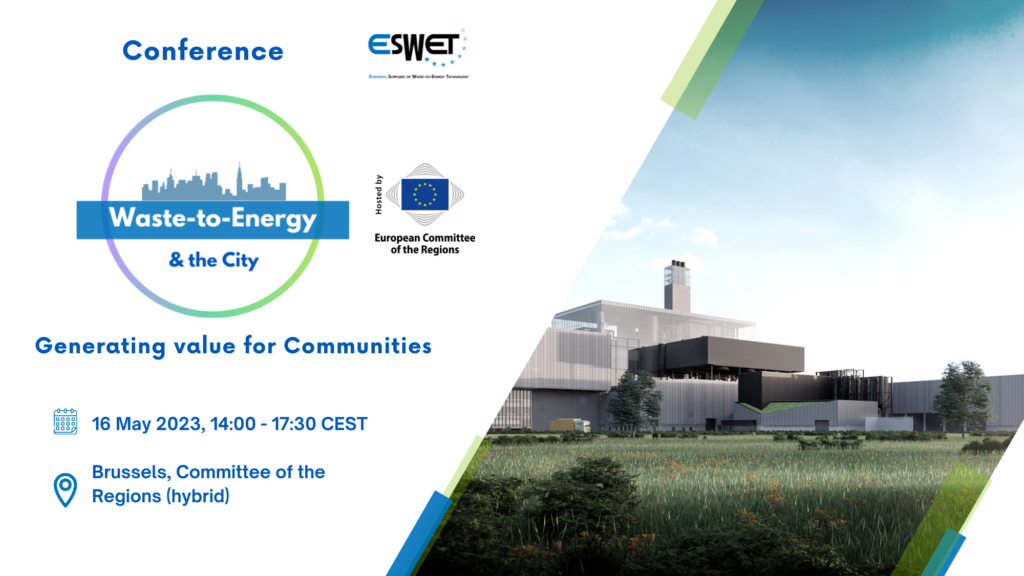 An ESWET Conference co-hosted by the EU Committee of the Regions
On 16 May 2023, ESWET held a hybrid Conference, co-hosted by the European Committee of the Regions, gathering high-level speakers to discuss the role of Waste-to-Energy in tackling local challenges, helping achieve EU energy & sustainability goals, and showcase successful examples that already benefit EU citizens.
Confirmed speakers included:
Eero Ailio, Adviser to the Director on Global Covenant of Mayors and Energy Climate Initiative, DG Energy, European Commission
Kata Tüttő,

Deputy Mayor of Budapest, VP of CoR ENVE Commission, CoR

Rapporteur on the role of WtE in the circular economy

Andries Gryffroy,

Member of the Flemish Parliament, VP of the Belgian Senate,

Member of the Council of Europe, and VP of CoR ENVE Commission

Dr. Thanos Bourtsalas, Earth Engineering Center Acting Director, Columbia University
Ana Šerdoner, Senior Manager Industry & Energy Systems, BELLONA
Download the supporting material:
Watch the recording of the event
Securing energy and materials in Europe is a strategic objective for the success of the green and sustainable transition.
Waste-to-Energy helps public authorities at regional level in Europe face a double challenge: achieve a circular waste management system while securing reliable, local, affordable, and partly renewable energy. WtE plants treat non-recyclable waste and use it as a resource to supply heat to 17 million citizens and electricity to 20 million citizens in Europe. About 10% of heat provided to European district heating and cooling networks comes from WtE. More applications involve carbon capture, utilisation and storage, hydrogen & fuel supply, and recovery of resources. All are required to address energy & material insecurity, increasing decarbonisation efforts, and soaring energy prices.