Webinar: Hydrogen Innovation for Waste-to-Wheels Solution
18.05.2021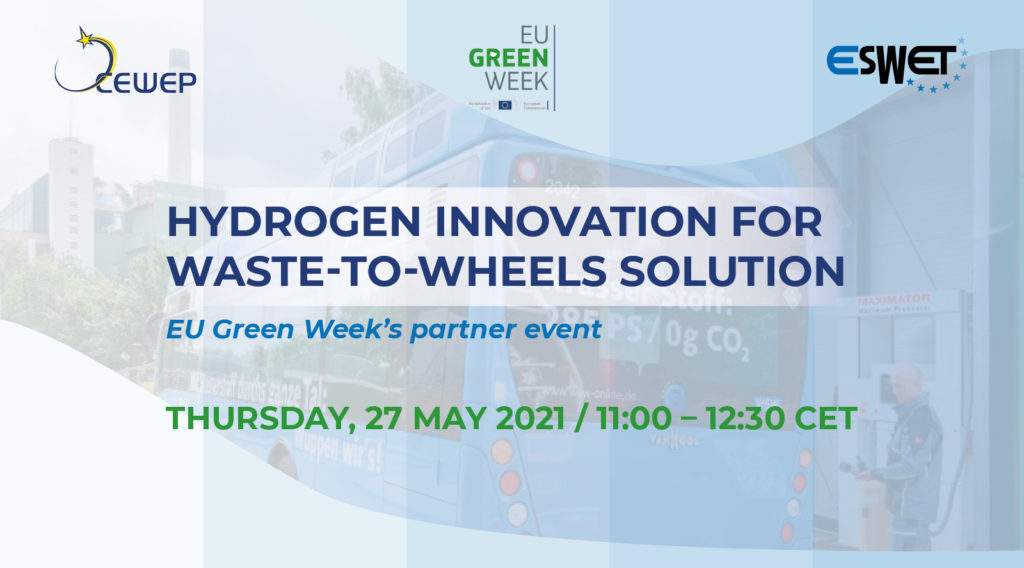 On 27 May 2021, CEWEP and ESWET organised a webinar to explore the potential of Waste-to-Energy in hydrogen generation. Find again the slides and the video recording!
Hydrogen is expected to become one of the drivers of the EU's Green Recovery in the next years. Fuel cells offer a range of potential applications including in hard-to-decarbonise sectors such as road transport.
Waste-to-Energy plants, that recover energy from non-recyclable waste are at the frontline of these innovative developments working on projects aiming to produce hydrogen that is used in heavy urban transport, like city buses and waste collection vehicles. The event discussed the surprising synergies brought about by these waste-to-wheels solutions and possibilities for future sector coupling.
Click here for the slides of the presentation: http://bit.ly/WasteToHydrogenWebinar 
Agenda
Opening remarks by Dr Ella Stengler, Managing Director of CEWEP.
Introduction from Jens Geier, Member of the European Parliament, Group of the Progressive Alliance of Socialists and Democrats, Rapporteur of the European Parliament's Report on the European Strategy for Hydrogen
Presentation by Pietro Caloprisco, Project Officer at the Fuel Cells and Hydrogen Joint Undertaking (FCH JU) on Hydrogen Development in Waste-to-Wheels Solutions
Presentation from Andreas Meyer, Head of Bus Technology at WSW Mobil on Wuppertal Waste-to-Wheels project
Panel discussion moderated by Fabio Poretti, Technical & Scientific Officer at CEWEP.
Watch the recording of the event (don't hesitate to subscribe to the ESWET YouTube channel for more contents): https://youtu.be/d_DgGgHU_yU