Bio360 Expo 2023
08.02 - 09.02.2023
Bio360 Expo is an international assembly point comprising a large international exhibition and multi-track conference program dedicated to advancing bioenergy, the bioeconomy, and atmospheric carbon removal, etc.


One of Bio360 Expo 2023 is to encourage a circular and renewable society, in contrast to the current model still dominated by dead-end fossil fuels.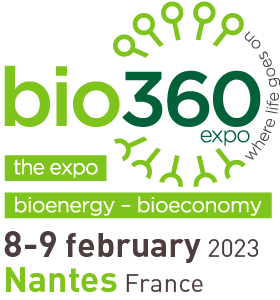 The event is singularly focused on spotlighting solutions that can accelerate the biotransition through the scaling-up of transformative and often disruptive technologies.
Generating diverse energy carriers (in liquid, solid or gaseous form) from a broad range of different biomass feedstocks and process technologies, energy recovery in the form of heat, power, mobility (by land, air and sea), replacing everyday petro-chemical derived products from our daily lives with ones produced from biomass or CO2 feedstocks represent the central themes of the event and are all evidenced throughout the exhibition and examined in depth in the many conferences.
Bio360 Expo, in a nutshell:
– Around 7/8000 visitors from 40+ countries
– 450 exhibitors from 35 countries
– thematic coverage : bioenergy (solid, liquid, gaseous), renewable and biobased
construction materials, carbon capture and utilisation and storage
– 6 conference tracks with the simultaneous translation (French/English)
– study tours the day before the event (7th February)
– the innovation competition
Manon Roussel is the Policy Officer for Circular Economy in ESWET, she will participate in a round table. Find the agenda and speakers here.
Visit the official website here!