Joint letter: Carbon Capture and Utilisation in the EU Net Zero Industry Act
12.04.2023
Calling for the recognition of Carbon Capture and Utilisation (CCU) as strategic net zero technologies in the EU Net Zero Industry Act.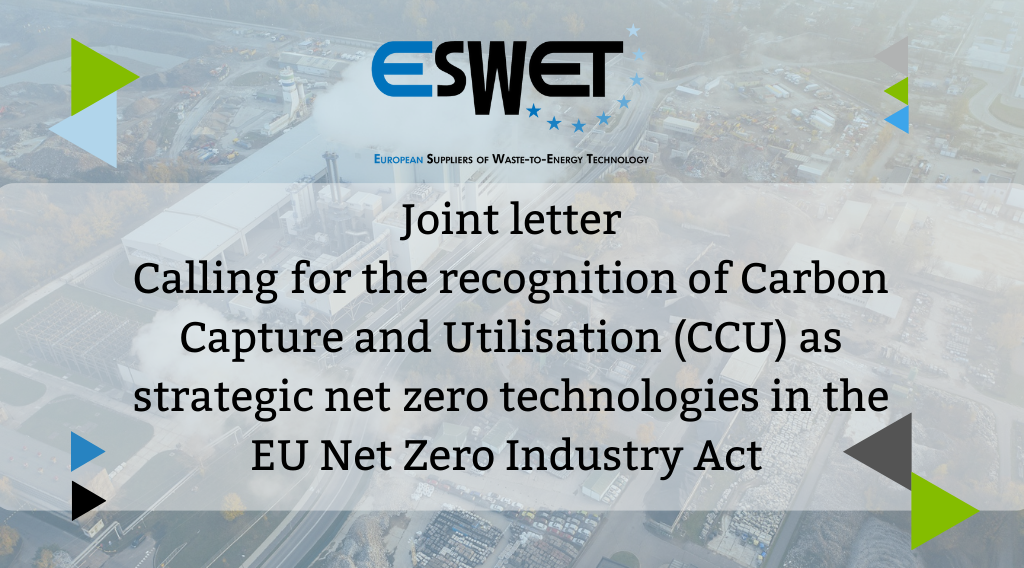 This Joint letter has been co-signed by different European associations and confederations to stress the strategic net zero potential of Carbon Capture and Utilisation (#CCU) technology in the EU Net Zero Industry Act.
CCU technologies increase the resilience of the #EUeconomy and its industrial systems by durably storing #CO2 or solid carbon in material and reusing captured carbon as an alternative carbon feedstock to produce fuels, chemicals, and materials as a replacement for fossil equivalents.
ESWET alongside the co-signatories of this letter advocates for the consideration of CCU technology in the list of strategic #netzero technologies because:
CCU applications are recognised by the IPCC as important technologies to mitigate climate change.

CCU EU-funded projects have demonstrated the commercial readiness level of these solutions by the EU Innovation Fund framework.

CCU contributes to increasing the resilience of the EU economy. Creating a European territory more independent from fossil imports, diminishing GHG emissions, and fostering circularity across industry and cities.
[Read the full joint letter here]