The Journey of Our Waste – The Beauty in the Beast #4
15.07.2021
The fourth episode of "The Beauty in the Beast" is a road trip around Europe to unveil new methods of contributing to sustainable mobility.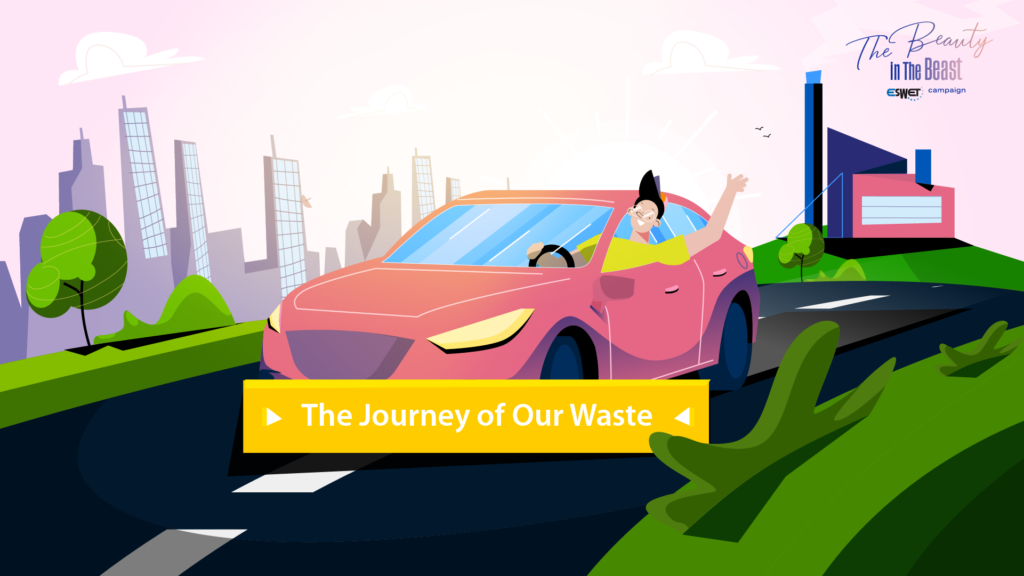 What if I told you that Belgian and Danish streets are full of waste? Yes, it is true, but not exactly how you'd imagine it. Belgium and Denmark have high recycling rates and are among the frontrunners in treating non-recyclable waste with state-of-the-art Waste-to-Energy technologies.
From non-recyclable waste to..building roads
Waste-to-Energy plants can recover secondary raw materials and minerals from the bottom ash generated by the treatment of non-recyclable waste. And some of these minerals are used as a sub-base substance for road construction. Denmark WtE plants, for instance, first recover the recyclable materials from the bottom ash and then reuse 99% of the rest for construction purposes.
Employing the bottom ash for road construction is an efficient and circular solution. Firstly, it saves resources given that it avoids the exploitation of virgin materials. Secondly, it increases efficiency, considering that the minerals recovered from the bottom ash can support a heavier load than virgin gravel.
The aluminium in your car comes more and more from your waste, too
Many materials are recovered from the bottom ash – copper, iron, aluminium, steel, to name a few – and some of these are used to produce car components. In the Netherlands and France, the aluminium recovered from non-recyclable waste is already widely used in automotive castings manufacturing.
Every year, tens of thousand tonnes of aluminium are recovered from the Waste-to-Energy plants, and the automotive industry reuses a large part, saving materials, reducing emissions and pollutions.
Waste-to-Energy..or Waste-to-Hydrogen?
Surprises are not over yet! Vehicles running on non-recyclable waste? That's happening, too, as the electricity provided by Waste-to-Energy plants can be used to charge electrical vehicles.
That's not all. Waste-to-Energy plants also generate hydrogen by converting the electricity obtained from non-recyclable waste with an electrolyser.
Let's have a look at the example underway in the German town of Wuppertal: the town's Waste-to-Energy plant already powers ten buses of its public fleet with hydrogen; as such, the city of Wuppertal saves up to 700 tons of CO2 per year. Wuppertal's program shows how Waste-to-Hydrogen is contributing to the decarbonisation of heavy transport vehicles, avoiding at the same time particle matter emissions.
Similar plans are under development in France. The Waste-to-Energy plant in Creteil (15 km from Paris) will generate hydrogen to charge heavy vehicles such as public buses and household waste trucks, aiming to distribute up to 1 tonne of hydrogen per day, thus preventing the emission of 1,300 tonnes of CO2 each year.
A committed player in the race for sustainability
For these reasons, Waste-to-Energy makes a compelling argument in the case of sustainable mobility, as it offers a line-up of unexpected applications: from roads construction to providing elements for car manufacturing, from the supply of electricity to e-vehicles all the way up to generating hydrogen that powers entire fleets of heavy trucks.
And that's how the journey of our non-recyclable waste goes hand in hand with the European plan to reach more sustainable mobility!